You should never be without at least a single pair of silver earrings in your jewellery box. Do not assume that what is simple is out-of-style and boring. Simple designs are truly a unique sense of style that never goes out of trend.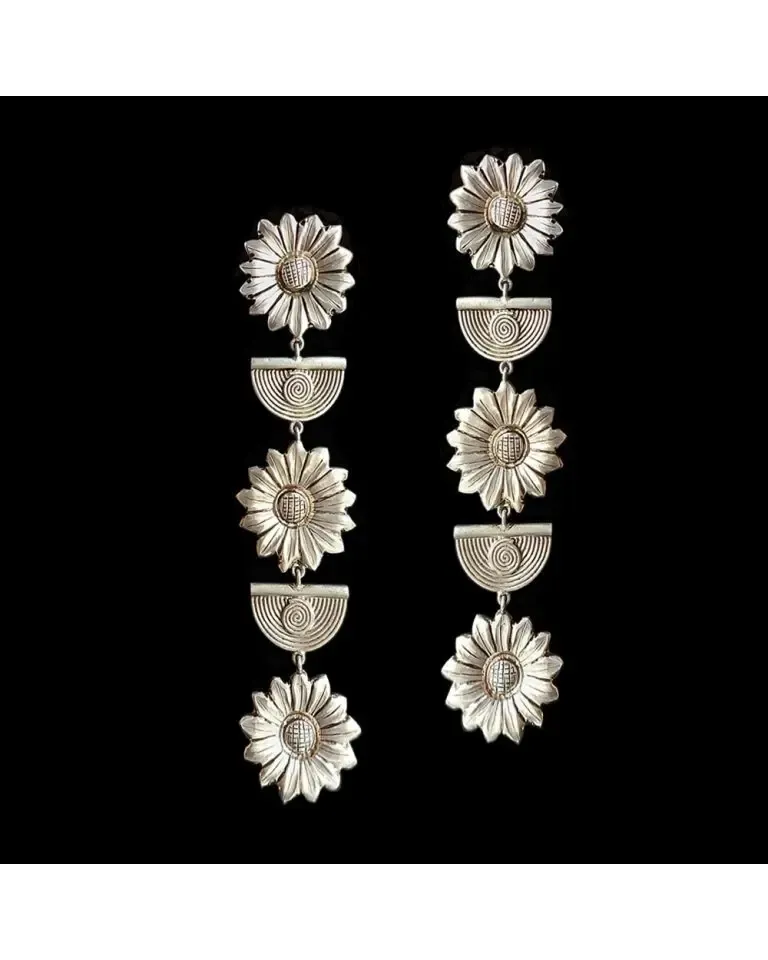 It is not possible to adequately emphasize the value of accessorizing just perfect, particularly when it comes to earrings. The intention is to put your face to attention, not overshadow your lovely facial features. For a number of purposes, a simple silver pair will make you shine. Silver earrings are a must-have pair because of several reasons.
Let's first take a look at some of the properties of silver which make it the most preferred choice by women. Silver jewellery comes in a wide variety of beautiful designs because of its ductile and durable nature. Sterling silver, pure silver, and silver plating are the major types of silver jewellery available in the market. Silver earrings are really affordable and at the same time truly attractive. It is prone to tarnish, however with proper care you can ensure that your silver earrings last for a long time. Many women face the issues of skin irritation by wearing jewellery. But, with silver, you get the added benefit of zero skin irritation and allergies. Just remember to clean your earrings regularly to ensure that they do not tarnish and keep on shining like new pairs for quite long.
Apart from these the silver earrings are:
Best for all times. Day/night – One of the best things about silver earrings is that you can wear them anytime you like, day and night. At any given time, they encourage you to feel beautiful about yourself. Even a simple designed earring adds a lot to your existing beauty. Mostly all types of designs look good and hence saves a lot of time e-consumed in front of a mirror, and hence helps you to go out with as minimal effort of styling.
Ideal for formal and casual events – Silver earrings are just special because it's not just that you can wear them any day but even on any occasion. Silver jewellery is perfect irrespective of what kind of outing you are heading to. Be it a date, or girls' hangout, cousin's wedding, or a formal meeting. A simply designed earring or any other silver jewellery like a pendant or ring amplifies your beauty and suits perfectly well with the occasion.
Perfect for all types of skin and hair colour – It is never enough if you consider just your clothing or accessories while dressing up for any event. It is also a requirement that you take your hair color and skin tone into consideration. Thanks to silver earrings, it just removes this extra-work. A pair of sterling silver earrings, regardless of whether you're blonde or brunette, or light or dark-skinned, will go perfectly with your looks. It's just absolutely fine with all the different skin colours.
Those days are a past where it is a must to stick to coordinating fashion accessories. Now you can mix and match various accessories, including those made of various metals. This helps you to highlight your distinctive character and sense of style. Without any hassle, silver earrings may be combined with a gold necklace.
These are some of the major properties and other reasons for always having a pair of sterling silver earrings with you. There are many ways by which you can buy silver earrings online. Undoubtedly, silvery jewellery delivers a dazzling charm and amplifies your charming personality. The light and shine of silver make silver jewellery absolutely desirable. Before long, get your sterling silver earrings online.
There are a number of online websites that sell silver jewellery. One of them, mymotifs has absolutely beautiful and vintage designs at competitive prices. They do not charge any markup cost and middleman commissions which makes their silver jewellery designs very affordable. It provides styles of silver jewellery of all kinds. You will find silver jewellery unique to any of these events, like casual outings, birthdays, and weddings. Mymotifs offers a wide variety of designs and styles like silver earrings, pendants, anklets, rings, bangles, and bracelets.